Responsive websites
Responsive websites
Fully responsive & fast websites are the basis of successful sales.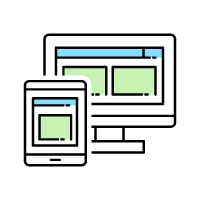 Your customers will book on your website only if:
Your web is intuitive and loading quickly.
Reservation process is easy and fast.
Your web is fully responsive - works well on mobile devices.
You offer better deal than any other distribution channels
Websites of your property should be build to showcase your product.
We can offer you a ready made template or custom development of your website.
You can increase the credibility of you property by displaying the reviews of your real clients. We may implement a special widget with the Google reviews to your website.
Click the link below to see our DEMO hotel (template) or one of our client's custom website:
Our content management system was developed in order to provide an easy and intuitive administration of the website content. You don't need to understand the HTML language - all articles can be updated using easy text editors.
The website is built automatically in 8 different languages - any new language can be added.
As stated above - a perfect website is the basis for successful sales. Now is time to focus on driving traffic to your website. Learn more information about SEO & Marketing.